<!img src="../images/top_logo2.jpg" alt="Otsue no Mise" width="436" height="144">
Sorry, Now Under Construction
Some of the contents are still in Japanese.
Welcome to "Otsue no Mise", the workshop of Otsu pictue
"Otsu-e" is the traditonal folk art first produced in 17th century in Japan.
Shozan Takahashi 4th & 5th are the only keepers of the art at present.
See more from the menu below.
Updated May 31, 2008

Menu

Introduction
About "Otsu-e" and Shozan Takahashi

Gallery
Picture images of "Otsu-e"

Workshop
About the shop "Otsu-e no Mise"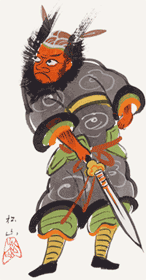 Shōki (from Chinese mythology)





All images and text are subject to copyright protection.
No copies of the digital images or text may be made except for personal use.

Publisher : Shinsuke Takahashi
Miidera-cho 3-38, Otsu City
Shiga pref. ,Japan

(c) 2000 Otsue no Mise co. All Rights Reserved.